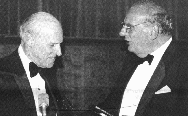 Good news for all ocean liner buffs comes from Christie's East, stepchild of the great Park Avenue auction house where Museum members have gathered so happily over past years.

The event--billed succinctly as "Christie's First Ocean Liner Sale"--will take place at 1:00 p.m., November 15th, at the Christie's East Show Room, located at 219 East 67th Street in New York City between 2d and 3d Avenues.

Several preliminary viewings will enable members of the public to examine the items up for auction. At 6:15 on Monday evening, November 13th, Christie's East will host a Twilight Talk by your Editor, to take place in the gallery among the objects set up for viewing. Admission is free and Beth Vilinsky, Christie's East head of 20th century Decorative Arts, suggests that further details about that Twilight Talk may be gleaned by telephoning the gallery at (212) 606-0400.

Additional viewing times have been scheduled as follows: Saturday, 11 November, 10:00 -- 5:00 Sunday, 12 November, 1:00 -- 5:00 Monday, 13 November, 12:00 -- 7:00 Tuesday, 14 November, 10:00 -- 5:00

Those logistical details promulgated, it makes sense to describe a few of the items being offered for auction.

Beth Vilinsky assured your Editor that there will be not only high- ticket items but also an affordable range of less expensive collectibles such as medallions, posters, travel agency display pieces and memorabilia.
There is, predictably, a bravura collection of Normandie furniture and decorative items, for example: one of Jean Dunand's red lacquer and eggshell games tables, a Dupas glass panel from the Grand Salon and some of the Aubusson-covered chairs from the same room, designed by Jean Rothschild.

Additional Normandie offerings are a dozen gilt-bronze placques, nineteen-and- a-half inches across (two are pictured at right) to be sold in eight separate lots. They were the work of Adalbert Szabo and come from Our Lady of Lebanon Cathedral in Brooklyn, presumably purchased by Chor-Bishop Mansour at the same time as he successfully bid on the ten bronze bas reliefs that adorned the vast double doors into Normandie's dining room and now grace the Cathedral entrances. The placques have never appeared on the market since that great pier auction during the early days of World War II.

Three ship models will also be offered, deaccessioned from the collection of Vancouver's Maritime Museum. Two are exquisitely detailed builder's models. The first is huge, a 21-foot model of Cunard White Star's Majestic-ex- Bismarck and the prototype builder's model for Cunard's "pretty sisters," Carmania and Caronia. The third is HAPAG- Lloyd's Bremen of 1929.

STOP PRESS: Ocean Liner Museum members are invited to a private viewing reception on Sunday morning, 12 November, from 11:00 a.m. until 1:00 p.m.. Your Editor trusts that readers will take advantage of Christie's kind offer, arranged exclusively for our membership.